Every Realtor knows they need to improve their personal real estate brand.

However, a lot of Realtors think that they don't have a budget big enough to grow their real estate brand.
This may have been true before the digital age. It's not true anymore.
Due to social media & digital marketing, a Realtor can create a huge personal brand with a fraction of the budget.
Let's do some quick math…
Let's say you wanted to reach 10,000 people every month in your target city.
You have two options to do this:
1) Print Advertising
Total Print Cost: $3,333
Firstly, we know that 40% of people throw out their flyers before even looking at them.
That means that you would have to send a flyer to 16,667 people so that after 40% of them throw it out, you would have 10,000 people who saw the flyer.
A typical real estate flyer or post card costs around $0.20 each, including printing and delivering.
So, to print and deliver 16,667 at $0.20 per flyer, you would pay $3,333.
2) Social Media Advertising
Total Social Media Cost: $250
Let's look at our proprietary PropertySpark data based on millions of people reached through Realtors' advertising campaigns.
From this data we know that it can cost a Realtor between $5 and $25 to reach 1,000 people on social media.
You may be wondering why the range is so wide. It all depends on the area you're in and who in that area you're trying to reach.
Nonetheless, if you were to take the high estimate and say it cost $25 to reach 1,000 people on social media. Then, it would cost $250 to reach 10,000 people.
That means you're saving over 90% by advertising on social media.
There are two other key benefits of advertising on social media.
Analytics: You know how many people are viewing and clicking on your advertising.
Speed: Your advertisements can start the day you create them. No more waiting for the print shop and then for the postal service.
There are some challenges with advertising with social media.
It's not all fun, games and cost savings. There are a few things that make effective social media advertising a challenge. Here are some challenges to keep in mind:
Effective Design. When advertising on social media it's important to have modern and effective graphic design. Otherwise, you risk hurting your overall brand image.
Correct Targeting. It's easy to get caught up in the myriad of targeting options that Facebook and other social media platforms offer. But, it's important to choose the right people to target. In your case as a Realtor, it's important to choose people who are in the market looking for real estate. That's easier said than done.
If you're looking for a solution to both of these problems check out PropertySpark.
By using PropertySpark you get effective design and correct targeting.
Here's an example of the designs you can make on PropertySpark with one click: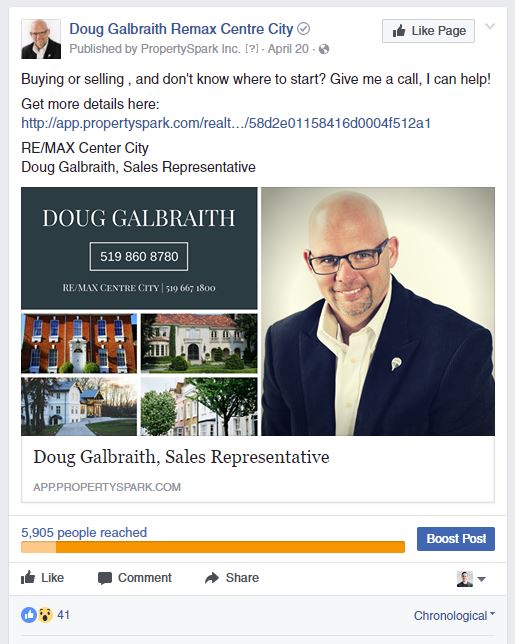 This is an example of good design. As you can tell from the high engagement, many people are fond of this personal promotion.
Again, you can make these ads in one click by using the personal promotion templates on PropertySpark.
When it comes to correct targeting, PropertySpark let's you target people who have expressed interest in properties before.
Hopefully you've seen the advantages of advertising on social media. Mainly that you save money in the process. But, as we mentioned there are other benefits as well, such as analytics and speed.
If you're looking to grow your real estate brand and thus grow your business, then social media is a place where you have to be advertising.
Learn how this real estate agent tripled his commissions just with social media and how you too can become a social media superstar.
That big blue button has tempted you before right? You want to Facebook Boost your Real Estate listing. Find out why you shouldn't!
A question we get often from Realtors is "how much should I spend on social media?" Find out exactly how much to spend and how to spend it without getting ripped off!